A few weeks ago
The Thief of Baghdad
(1940) was on with an appearance by
Mary Morris
. I know her better as one of the Number 2s from The Prisoner, but she later appeared in Kinda, marking a huge 45 year gap between her first credited appearance in film (1937) and her eventual appearance in Doctor Who.
Part of a game we play is spotting people who have been in Doctor Who in other things to which we have taken to shouting 'take a shot'. It's possible to cheat using the
IMDB comparison
page but it's more entertaining to see how many you can get out of a single programme. Films like Flash Gordon are particularly lucrative and likely to leave you blind if you take the game too literally.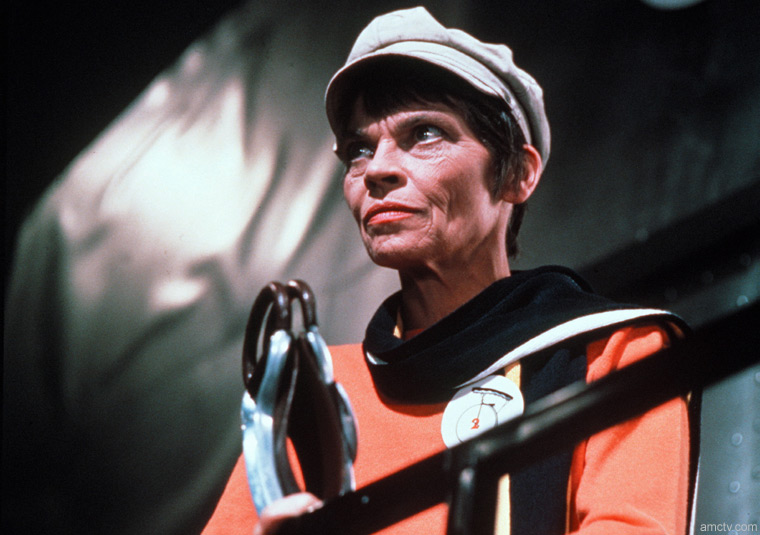 This huge amount of time between starting a screen career and eventually appearing in Doctor Who seemed enough to remark upon, and led to various questions. What is the longest gap between someone starting their film career and later appearing in Doctor Who? Likely to be closely linked, who was the earliest born person to appear in Doctor Who. And what age was the oldest person to have appeared in Doctor Who?
Mary Morris is a contender on the first point, as it's actually quite difficult to immediately think of someone who was on screen before the '40s who was likely to be doing Doctor Who in the 1980s. Taking a punt on
Richard Todd
who also appeared in Kinda has no such luck, only a few uncredited roles (1937) prior to 1949. And it's these early credited roles that hold more weight as being verifiable in my opinion, so unless I say otherwise, I am basing all my claims on credited roles only.
A good a place to start as any other is with
William Hartnell
, born 1908 his first uncredited part was 1932 and his first credited role in 1933. It's worth noting that Hartnell really wasn't that old when he started Dr Who aged 55. There are many older actors born early 1900s that were to appear in Dr Who. It's still a solid place to start as some digging was to find that 1933 is about the earliest point that many people in Doctor Who entered the film industry. Despite Hartnell not being very old, there are not a wealth of people appearing in earlier roles doing Doctor Who. Furthermore, these people tended to appear in early Doctor Who, so Mary Morris's 45 year record is no where near being under threat.
Around 1930 the silent era was dying and talkies became more popular. It seems many actors simply didn't make the transition to vocal acting on film or met a language barrier being non-english. I'm no expert, this would be my guess just looking at IMDB and early cinema, there are distinctly more foreign films in these earlier times and many actors' careers end and new ones begin. 1933 is already 30 years before Doctor Who first aired, and pushing back the years to find people appearing in earlier films who would later appear in Doctor Who is quite a challenge. People in the middle of a career during the '30s would likely be coming to an end when Doctor Who was starting.
It's tricky just trying to think of people who are old enough, early Doctor Who doesn't actually have that many very old actors in it. They look old, but aren't very old. Hartnell was 55, and there are only a few older than him. Picking obviously old people doesn't often pay off.
Michael Gough
seems to have been old forever, but was born after Hartnell in 1916 and didn't appear in film until 1946. That's not even close to our goal. Unconvincing Dalek-made double for the Doctor in The Chase played by
Edmund Warwick
seemed a good stab but he was only a year older than Hartnell but didn't appear in TV/film until 1951. To find people who were already credited in film by the early '30s requires us to dig very deep, it seems thirty years or more prior to Doctor Who even first airing really is in the distant past.
Along the way were plenty of personalities and actors worth mentioning even if they didn't make it as the oldest or earliest actors in Doctor Who.
George Coulouris
was born 1903 and first in film 1933. He appeared in the Keys of Marinus. Notable for being in the only crossover Doctor Who has with Citizen Kane. He worked alongside Orson Welles several times but ended up in the Keys of Marinus - groan! All this does come back as Coulouris appears as a character in the BF audio Invaders from Mars set in 1938 which offers the in-joke of Orson Welles asking "George, what are you doing with those keys?"
Vivienne Bennett
was born in 1905 and played Elizabeth I in The Chase (1965). Her first credited acting role was in 1929
Le Secret du Cargo
. Trying to find earlier roles is becoming more and more obscure but now we're into the '20s where things get even trickier.
Esmond Knight
born 1906 had his first credited role in
The Blue Knight
in 1928. Now we're really pushing it back a few years. He appeared in The Space Pirates in 1968 which a square 40 years between his first film and Doctor Who appearance, but still falls short of Mary Morris's record which now seems unlikely to be beaten.
HMS Hood
More curiosities, Esmond Knight appeared in Sink the Bismark! as the Captain of HMS Prince of Wales. This is notable as, in reality, Esmond Knight served on HMS Pince of Wales as a Lieutenant when the Bismark was fought during WW2. He received injuries that left him partially blind for the rest of his life. The same engagement saw the HMS Hood sunk with all but three survivors. Coincidentally, Jon Pertwee was among a handful reassigned from the Hood at very short notice only a couple of days prior to the battle. After the war, the two apparently became friends.
I feel
Roy Brent
is worthy of mention as, while his entire career is largely uncredited bit-parts, he is the only person in Doctor Who to have appeared in the 1933 King Kong.
I find it quite astonishing that someone who appeared in the original King Kong film, was later in Monster of Peladon and even appeared in Some Mothers Do 'Ave 'Em. As it happens, no one appearing onscreen in either the 1976 or 2005 remakes of King Kong have been in Doctor Who either new or old. I'm suspicious that it's not the same person, but various websites do seem to support it. No one from Metropolis (wouldn't that be great?) or Casablanca has ever been in Doctor Who, though four people from The Third Man have been. So it's hard to guess what films will give a result. And for the sake of pure trivia,
Tutte Lemkow
is the only person in Doctor Who to have appeared as the titular character of an multiple Academy Award winning film. Who, what? Why, he was the
Fiddler on the Roof
!
So after much searching I put forward the following names to answer the questions we started out trying to answer. I may be mistaken and there could be exceptions in the New Series with which I am less familiar.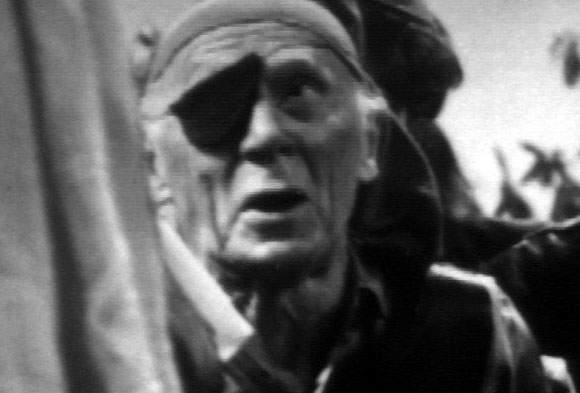 Drum roll for...
Jack Bligh
appeared as Gaptooth in The Smugglers. He stands out as the earliest born person to have appeared in Doctor Who, being born in 1890 making him already 73 by the time Doctor Who first aired and 76 by the time of his appearance. He doesn't appear in TV/film credited roles prior to the '60s but had been acting and employed by film companies in various roles. He travelled quite widely and also fought in France during WW1.
So who was the person to have the longest gap between their first credited role and appearance in Doctor Who?
Sticking strictly to credited roles,
Leslie French
is the person we found to have the biggest gap between their first appearance in film and role in Doctor Who. Born in 1904 his first credited role was in 1935 but it wasn't until 1988 at the age of 84, that he appeared in Silver Nemesis as Lady Peinforte's 'Mathematician'. This also puts a 53 year gap between his first credit and Doctor Who appearance smashing the record of Mary Morris!
And finally, the earliest credited appearance of an actor in film that was later in Doctor Who?
Frederick Schrecker
as Julius Silverstein in Web of Fear. Born 1892, almost a challenger for the oldest person to have been in Doctor Who, his first credited part in 1926 in
Der Feldherrnhugel
, a silent Austrian film.
We have the earliest born person to appear in Doctor Who, the longest credited career prior to Doctor Who, and the earliest appearance in film of anyone in Doctor Who. I guess that's it.
Or is it?
When starting this I decided I would only focus on the credited roles to define an actor's career, as that's when an actor starts having speaking roles and appear in the credits. I had not really considered the possibility of people having very early credited careers that would go on to have have uncredited roles in Doctor Who. Not that I intended any assumption that Doctor Who was somehow the pinnacle of their career worked towards meaning they obviously had to have a credited role.
Nonetheless, a huge achievement is shown by
Vera Lennox
. She isn't the oldest person to have appeared in Doctor Who by some way, being born in 1904, but her first credited appearance is an astonishing 1921 in silent comedy
Tilly of Bloomsbury
. She wouldn't appear in Dr Who until State of Decay, a staggering 59 years later. Her role in State of Decay is an uncredited role as a 'peasant', but it is no less amazing a span of time and it seems churlish to discount it on this basis. If you were to take Vera Lennox into account, then she is both the earliest person with a credited film role to have been in Doctor Who and the person with the longest span between that role and appearing in Doctor Who.